rebooting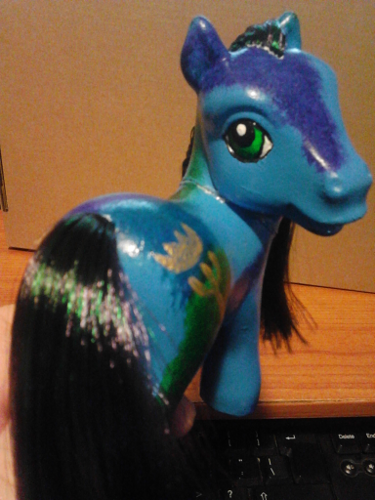 Luxpony started out as a fairly battered Kimono G3 pony in what I like to call Sassy Pose (technically speaking, Sunny Daze pose). After a quick scrub, dehairing, and basepainting, I gave him a base coat of Reeves Acrylic cerulean blue, with grass green, violet, phthalo blue, and prussian blue dry-brushed on to give an impression of the colours you often find symbolising the deeper parts of the ocean. His cutie mark (a trident topped with a crown) was added on in gold.

After a varnish with Jo Sonja's Satin Varnish, he was rehaired with a custom blend from mylittleponyhair.com called Deadly Poison, a combination of Deadly Poison (a purple), and Poison Ivy (a green). The mane was boil-set to lay flatter than most pony manes and give it a semi-wet look.



Full body shot. The hair is very dark, but you can see highlights of green and purple in this shot.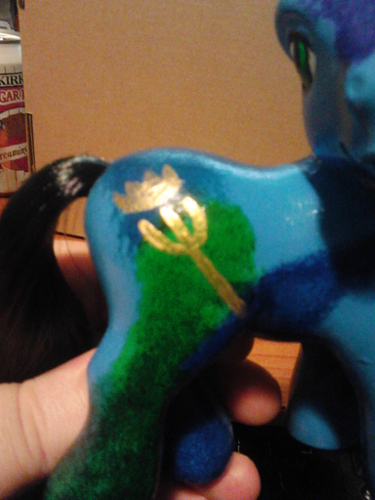 Closeup of the cutie mark.




Closeup of the hair. You can see the green and purple better in this picture.




The non-display side, as it's called, to show off more of the drybrushed stippling. The neck join is more pronounced than I'd like; this pony was one of the more difficult ones to dehair and I had to end up boiling the head to get all of the glue out, and the neck cooled slightly off.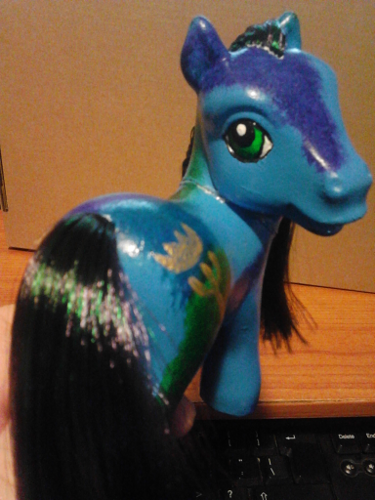 One of my favourite parts of the sassy pose - the over the shoulder look. And his butt.